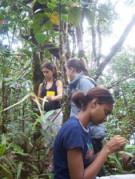 Product by:
Seychelles Islands Foundation (SIF)


Seychelles Green Education and Research Programmes is part of the Plant Conservation Group, a non-governmental organisation. We dedicate to the conservation of plants in the country, particularly native flora, because rich flora is the fundamental of people's well-being. Many Green Education, Eco Research and Eco data Anlysis are initiated and taken part in different types of conservation and outreach activities in this Eco Research Centre.
To understand, value and conserve plants, a sound scientific foundation is required in order to maintain a healthy environment. These are conducted by, for example connecting conservationists and researchers, providing advice and scientific information, mobilising resources, participating in restoration projects, producing educational materials and creating opportunities for active learning.

Our key intention is to further plant conservation in Seychelles by mobilising action for the scientific research and conservation of plant species, and by promoting community awareness of the fundamental importance of plants in Seychelles.
Please use the Contact form on the right for Seychelles Green Education and Research Programmes information and ordering.