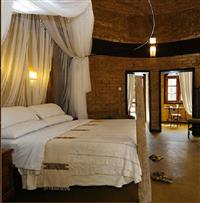 Product by:
Sandele Eco-Retreat


Sandele is an Ecolodge and Eco Accommodation, aiming to provide you an Eco Retreart within the comforts of home in the African forest at the edge of miles of beautiful deserted beach.
Our Greens Hotel service contains high quality rooms and delicious fresh cuisine; the true magic of our oasis here is in the quiet and relaxed atmosphere in undamaged environment, and our welcoming local staff will also offer a wide range of activities that we hope you will participate with.
We offer you two choices of accommodation, and our four unique circular lodges have a high dome ceiling surrounded by an enclosed colonnade, or nestled in the delightfully wooded grounds, where both you can relax, read or enjoy meals.
Else, private roof terrace in our retreat is offered as a special location for private dining. By considering about your joy time as well as convenience each Lodge has a shared plunge pool and sunbathing area with a spacious shower room, separate WC and dressing area.
Please use the Contact form on the right for Eco Retreart information and ordering.