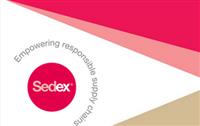 Product by:
Sedex


Sedex is a the Supplier Ethical Data Exchange, we are a non-profit organisation dedicated to driving improvements in responsible and ethical business practices in global supply chains. We provide a wide range of training sessions, tailored and individual company sessions to support you, such as Green Webinar Training, member training, Tailored training and Global training for the purpose of Risk Assessment, Education And Training and Eco Training Courses.
We offer our clients an innovative and effective supply chain management solution, helping you to reduce various risks, protect your company reputation and advance promising practices.
Our Sedex Risk Management and Risk Assessment tool will help you to manage your supply chain data at a more comprehensive level by presenting enhanced risk mapping, benchmarking and reporting functionality.

We also help supply chain suppliers to take action to improve working standards and minimise their impact on the environment.
Please use the Contact form on the right for Green Webinar Training information and ordering.