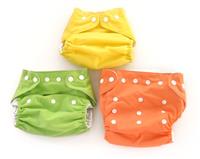 Product by:
Snugglybum


Green Snugglybum Cotton Nappies are easy to use and easy to wash. Our Environmentally Friendly Nappies are a one size, birth to potty system. You don't need to buy different size nappies as your baby grows, one size fits all from 3kg – 15kg.
Our Nappies are fully adjustable, particularly designed to grow with your baby. Our Organic Reusable Nappies come in a wide range of colours and patterns.Our pocket Nappies have a waterproof outer layer, and the outer layer is made from soft, breathable polyurethane laminate, a soft, waterproof, breathable, stretchable fabric.
Once washed, our Cloth Nappies will come out of the machine practically dry. Each of our Natural Nappies comes with one, incredibly soft, insert, made of super absorbent microfiber, including 80% polyester 20% nylon, which is more absorbent than regular flannel and dries much quicker.
Please use the Contact form on the right for Green Snugglybum Cotton Nappies information and ordering.