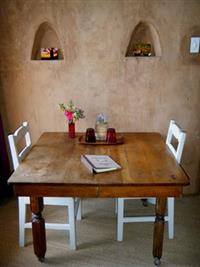 Product by:
Samhitakasha


Samhitakasha Cob House is a cozy place with endless pleasure of living, which located in 200 metres from Muizenberg beachfront, justly famous as a perfect beach to learn to surf as well as a family swimming beach. We have created an Organic B&B, a Green Simric Hiking Tour, is ideal for wholesome holiday accommodation in the beautiful city of Cape Town.
We are going to prepare you our special Green Simric Hiking Tour to an ancient cave on Table Mountain for a picnic (local secret), which is a Green Tour and Wildlife Tours to see the penguins, a shourt Farm Tour to visit an organic farm and cafe and also to a 'green building' project to learn about green approaches in the stunning Cape. Our destination of the tour is to bring you out off Cape Town to enjoy many memorable and historic sites.
The Muizenberg section of the Table Mountain range has spectacular Natural Tour for Hiking as well as caving opportunities and can be reached within 10 minute's walk. Half an hour walk or 4 minutes on the train would get you to Kalk Bay's popular attraction, which features a wonderful and safe tidal pool for swimmers of all ages.
Please use the Contact form on the right for Green Simric Hiking Tour information and ordering.