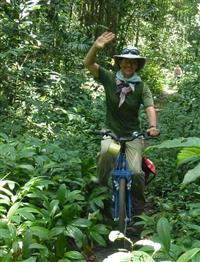 Product by:
Rwandan Adventures


Green Rwandan Adventures is a Eco Tour and Nature Based Tour and we are striving to allow you find a dream activity holiday in terms of Green Cycling Tours, walking tours and canoeing tours in a fantastic country.
Rwanda, an ideal place is well known as the "Land of a thousand hills", owing to its hilly topography. It is about to make all cyclists all over the world the best Green cycling tours with massive interesting challenges. In addition, Rwanda is also famous for its primates, volcanoes, coffee and tea plantations, and lakes, so you can also look at our extra Green Tours and let us know which of these Wildlife Tours or activities you would like to integrate in to your customised Wild Tours.
Our personalized and considerable itineraries avoid Rwanda's main and tarmacked roads, and concentrate on getting you bumpy track in order to create a unique experience. Cyclists will need either a world-touring-style-bicycle or a mountain-bike, which can equally be hired from us.
Please use the Contact form on the right for Green Cycling Tours information and ordering.