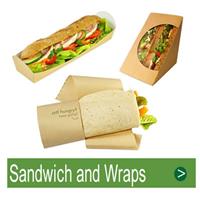 Product by:
VegWare


Eco-Friendly Sandwich Wedges are completely compostable.
It is made from sustainable brown kraft board with a compostable liner and a clear window made from corn starch (PLA).
The eco friendly Wrap boxes and sandwich boxes are supplied flat and assembly is very simple and no origami required.
Vegware's Eco-Friendly Sandwich Wedges are available in 3 sizes:
• standard sandwich wedge
• deep fill sandwich wedge
• triple sandwich wedge
The widths for the 3 size are 65, 74 and 85mm respectively.
The sustainable compostable wrap box has become an essential part of any takeaway sandwich offering.
These classic and eco sandwich boxes offer great visibility due to the corn starch window.
Separately sits under a take away sandwich providing a secure base.
The eco compostable sandwich can then be wrapped in a PLA sheet or presented in PLA bag for excellent visibility.
Please use the Contact form on the right for Eco-Friendly Sandwich Wedges information and ordering.