EnviroServe info, products & news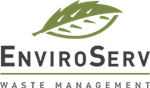 Managing waste responsibly is a key environmental, economic and social priority in the 21st century. The world's leading economies have all recognised that sustainability is a key business issue, and companies that position themselves for a global success recognise this. As a company that has been providing responsible African waste management innovations and solutions for more than 33 years, EnviroServ is well placed to partner with organisations looking for best practice sustainable waste solutions.
The Group operates through specialist divisions - each focusing on waste management solutions for particular customer needs.  Through these divisions, EnviroServ is able to offer products and services to cover the hazardous and non-hazardous waste management requirements of clients from all industries.  Services range from waste minimisation and beneficiation to collection, treatment and disposal, on-site waste management and recycling, industrial cleaning, as well as the development and management of state of the art landfill operations.
Please get in touch with EnviroServe from the Contact box on the right.
EnviroServe Location
EnviroServe Products
listed